---
A quick navigational note: Please scroll down for information on Joe Novelli's work as a solo recording and performing artist ... music, videos, rambling bios, etc. For shows and contact, scroll all the way to the bottom. For Novelli's work as a COMPOSER, as an INSTRUMENTALIST / PRODUCER, and with THE CLOUD WALLS, please click on the according menu option above (or hyperlinks herein).
---

somewhere in between dreams, dust, machines, and rock and roll ...
Joe Novelli is a multi-instrumentalist, songwriter, composer, solo artist and bandleader based out of Tucson, Arizona, in the American Southwest.
Inspired by the beauty, people, and sounds of his High Sonoran Desert home, Novelli's music also draws on his youth in Ithaca, New York, early twenties in Asheville, North Carolina, ten years touring the states while living in Brooklyn, New York, and the majority of his thirties performing internationally. 
Novelli's solo projects range in style across the eclectic breadth of his musical aesthetic. His compositions and performances blend myriad sounds and influences, from indie folk/rock-esque to subdued yet beat-focused analog / electronic, ambient soundscapes to live experimental improvisations, southwestern country noir to old school soul and stompy, bluesy rock and roll. A professional writer as well, Novelli's sense of lyricism tends to arc with a song's movement, from poetic ramblings to brutal honesty. 
There is a thru-line between the various iterations of Novelli's solo work ... something in the way of music that emotes, impacts, evokes imagery, and has a penchant for combining old and new, a respect of song, composition, and searching out sounds through expansive experimentation. And there is often steel guitar. And mellotron. And waltzes. And Marvin the 50 year old analog drum machine. And gizmos galore.
In addition to past releases under the moniker Marvin and the Cloud Wall as well as forthcoming albums, both solo and with The Cloud Walls, Novelli recently released Dance with the Death, a collection of instrumental, cinematic compositions created for French record label Art Melodies, part of the Cézame Music Agency. Dance with the Death can be streamed on Spotify, Apple Music, Cézame's website, etc. Snippets of songs from Dance with the Death may also be heard in various TV programs and radio shows across networks and borders, from Dutch national TV to ESPN, French national radio to Al Jazeera.
This here video is Joe Novelli performing his song "The Levee" at home in Tucson. 'Twas shot on a phone for the 2019 tiny desk contest. It didn't win, but is pretty fun anyhow. 
The performance is indicative of Novelli's tendency towards the intersection of song and ambience, analog+digital doodadery and a veritable pile of old amps, drum machines, synthesizers, and, of course, guitars and such.
[That purty lapsteel guitar was made by Steve Novelli, of Novelli Guitars. He is brilliant.]
musical odds and ends ...
 Next up, a sampling of Novelli's diverse body of work as a solo artist, both in live and studio context:
0:00/5:00

0:00/2:25

0:00/5:07

0:00/1:54

0:00/4:44

0:00/4:31

0:00/4:52

0:00/10:33
once upon a time in denmark ...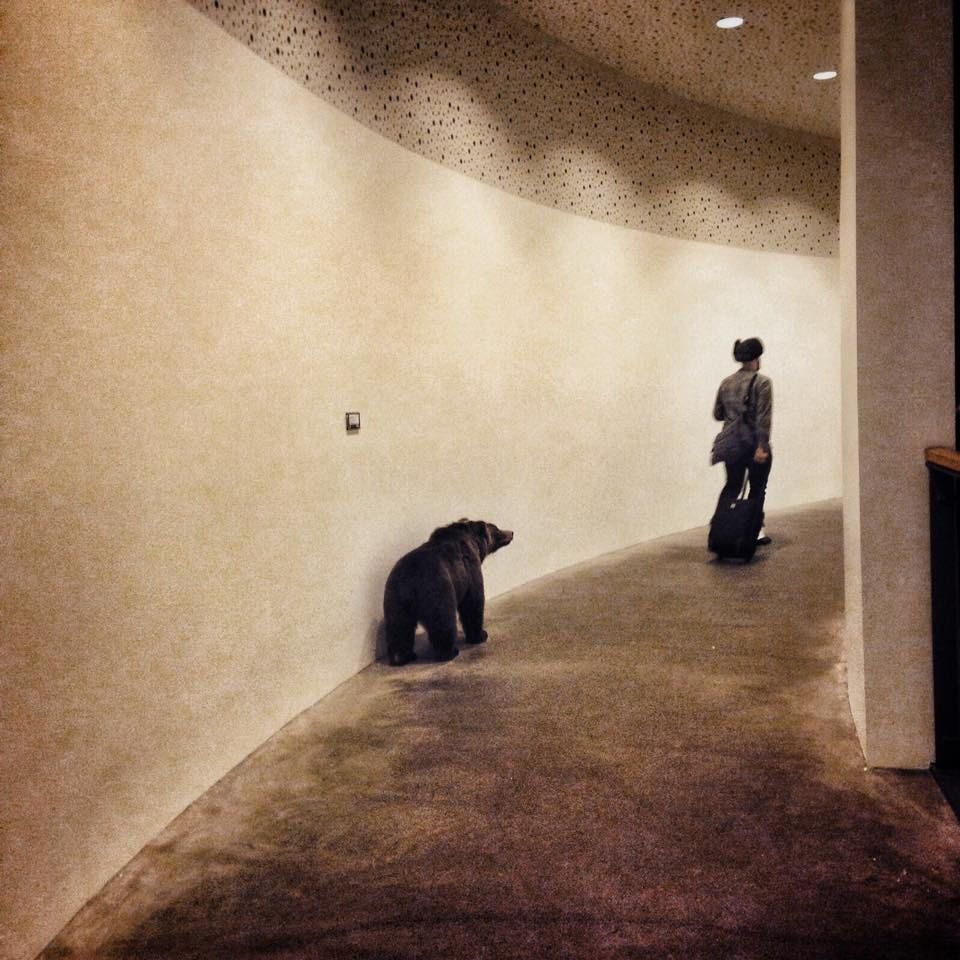 Joe and a bear go for a walk, somewhere, some time ago . . .
captured by the venerable Andrew Collberg, because bears are cool, and so is andrew
background and foreground ...
Known for his genre-bending lapsteel work, Joe Novelli has toured extensively as a solo artist, with his full band The Cloud Walls (Tucson, Arizona … members of Giant Sand, XIXA, etc.), and as a member of Nive and the Deer Children (Greenland/Europe … members of Giant Sand, Desoto Caucus, etc.), Orkesta Mendoza (Tucson, Arizona … members of Calexico, De Pedro, Devotchka, Mexican Institute of Sound, etc.), and numerous other bands from the US, Mexico, and Europe. These travels have taken Novelli all around the world, from every corner of North America and Europe to remote islands in Greenland and rock clubs in Tokyo. When not on the road with one band or another, he is generally found at home in the old pueblo, writing, recording, playing music with various excellent Tucson bands, and generally carrying on as one does when happily stationary. 
Novelli has recorded on countless records as an instrumentalist for artists from a dozen odd countries. He also produces and records music for others out of his home studio (La Casita de los Sueños) and Dust and Stone Recording Studio, which he runs with Gabriel Sullivan and AJJ in Tucson. More on all that can be found in the Collaboration and Production page of this website.
press and a few pictures ...
---
A few kind words on Joe's Music:
"Aching slide guitar" - HARP Magazine 
"Serpentine" - My Old Kentucky Blog 
"Breathtaking" - The Ithaca Journal 
"Ghostly" - All Music Guide 
"Southwestern gothic," "Chilling slide guitar" - New York Music Daily
A T-Town Sessions Article on Joe:
http://www.ttownsessions.com/heart-where-the-old-pueblo-is/
---
shows [joe novelli + the cloud walls + joe with other bands] ...